About us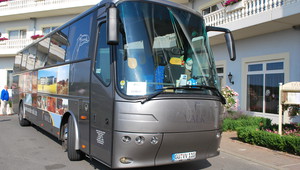 Shuttle bus for the Small Festival in the Big Park
on 7th and 8th August 2015
The Small Festival in the Big Park ranks among the crowd pullers in Mecklenburg Vorpommern. The festival enchants its visitors with artists and casts from all over the world on all in all 25 stages. Enjoy artistic performances such as artistry, acrobatics, cabaret, comedy, masks, string puppets and pantomime. While promenading through the quaint palace garden, one can arrange one's own program. You can either have a picnic in the park or choose from a wide variety of culinary treats from all over the world. When day turns into night, festive fireworks round off the perfect summer evening.
Experience an unforgettable evening in the palace garden in Ludwigslust.
You can book a round trip for € 15,00 per person, with a shuttle bus departing from the hotel to Ludwigslust, and back.
(Departure time: approx. 4:30 p.m. from the hotel, from Ludwigslust approx. 11:15 p.m. after fireworks)
For making a reservation, please do not hesitate to contact us by phone 038726-880 or by E-Mail spornitz@vandervalk.de.